Do you ever have the moments why you wonder why you do something? Then, you think about it and realize maybe you do it that way because that is how you've always done it. Maybe
this
time it would be okay to change things up a bit. It happened to me today.
I decided that I'd go to the bathroom and *gasp* shut the door behind me. What a glorious minute and a half of privacy and freedom that was! It was nice to not be given a play by play of my movements or answer questions like "You poopin' mommy? Is it a big poop?" It was quiet, peaceful, and serene.
Then, this poor little face that greeted me was the reminder on why I rarely go to the bathroom by myself and by all means don't shut the door if I do.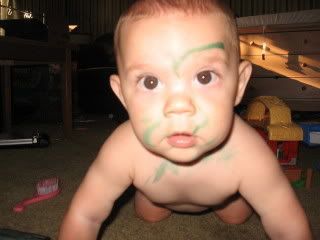 Poor kid. And the culprit was caught "green handed" and very, very proud of herself.